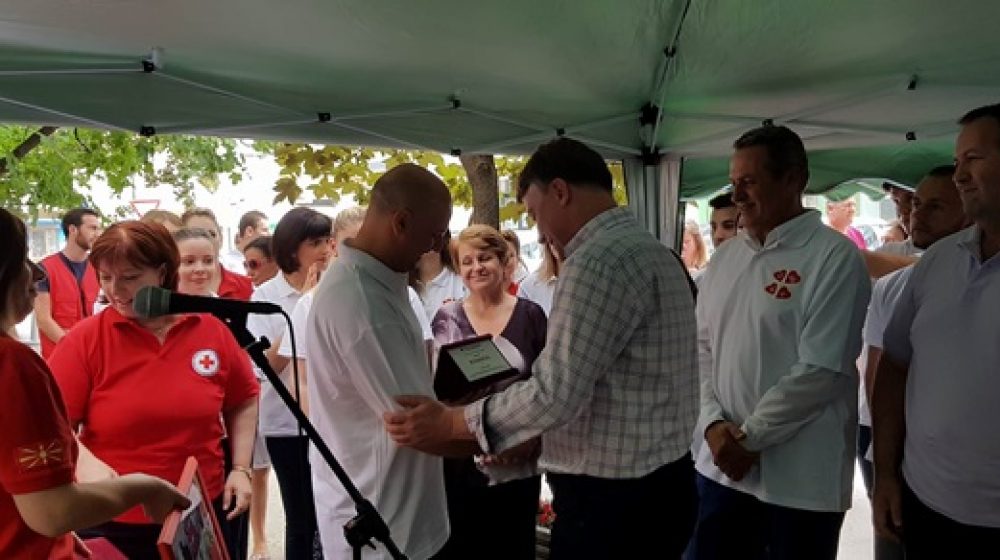 June 18, 2018
"Be here for the others. Donate blood. Share life."
Each year, countries around the world celebrate World Blood Donor Day on June 14th. Through various events organized on this day, we want to thank our volunteers, unpaid blood donors and to raise the public awareness of the need for regular blood donors in order to provide quality, safe and accessible blood and blood products for patients who need them. The highlight of this year's campaign is blood donation as an act of solidarity, which emphasizes the basic human values ​​- altruism, respect, empathy and kindness. We use the slogan: "Be here for others, donate blood, share life", to encourage people to take care of each other and generate social ties.
The City Red Cross of Skopje, realized the event for marking the 14th of June at the premises of the Daily Blood Donation Center ("DHO Dare Dzambaz"), which this year marked its 5th anniversary, with a realized total of 9369 blood units. The participants were greeted by the Secretary of the City Red Cross of Skopje, the Mayor of the City of Skopje Mr. Petre Shilegov, who referred to the support from the City of Skopje for the initiative for opening a Daily Blood Donation Center and for supporting the activities related to voluntary blood donation, as well as the State Secretary of the Ministry of Health of the Republic of Macedonia, PhD. Vladimir Miloshevski.
Within the event, acknowledgments and plaques were given to organizations / institutions for their contribution in the process of promotion and advancement of blood donation on the territory of the City of Skopje. Alkaloid AD Skopje and the City of Skopje were awarded with plaques, and with gratitude's were awarded Moto Club Podfat, Moto Club Gardian Angels, the Public Revenue Office of the Republic of Macedonia, "Rade Koncar – Kontraktori i Relei", the Agency for Real Estate Cadastre – Republic of Macedonia, the Scout association of Macedonia and Sava Insurance Group.
The Mayor of the City of Skopje, Mr. Shilegov also visited the Daily Center for the Elderly, held talks with the beneficiaries, the volunteers and the responsible personnel.
< go back