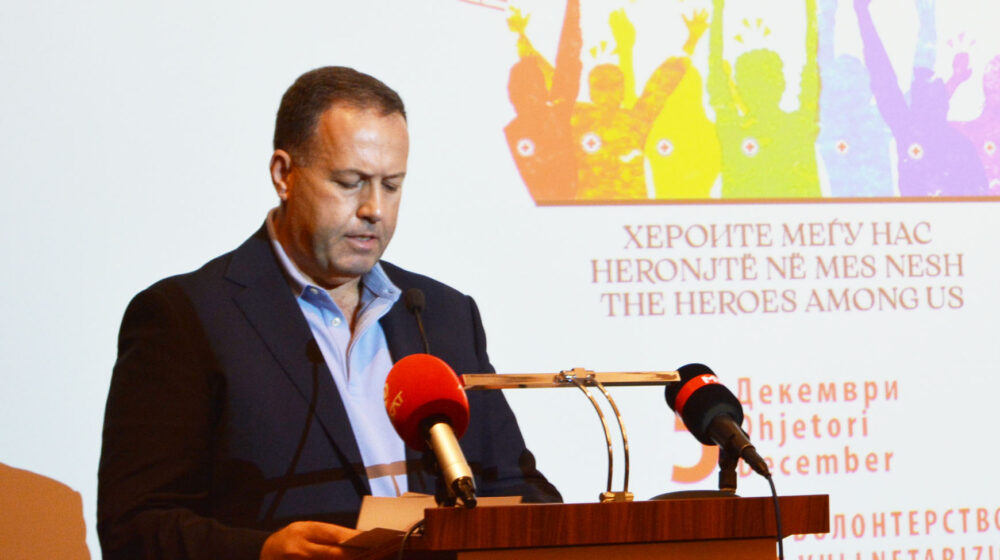 December 3, 2021
Address of the Secretary General of the Red Cross of RNM, PhD. Sait Saiti on the occasion of December 5th – International Volunteer Day
Dear Mrs. Elizabeta Gjorgievska,
Distinguished media representatives
Distinguished representatives of the Red Cross branches and City Red Cross of Skopje
Dear volunteers
I am especially glad to have the honor to address you on the occasion of the International Volunteer Day – December 5th. Under the patronage of the United Nations, on this day, for 31 years, we celebrate the contribution of the volunteers for their support for various categories of the population in the local communities. Volunteering is an essential element of civil society. Our communities depend on and rely on the efforts of our volunteers. They make a comprehensive contribution to the social development.
On this day, Red Cross and Red Crescent societies around the world organize various activities in order to pay tribute and to express gratitude to over 14 million volunteers in the Movement for their support and volunteer work. We celebrate today's event under the motto "The heroes among us – Unstoppable" in honor of the special efforts of over 3,000 active volunteers of the Red Cross of RNM who act sometimes and in exceptional circumstances providing support and assistance to various target groups affected by emergencies and risks.
In recent years we have witnessed that as a result of climate change and increasing natural disasters and economic challenges facing modern society we increasingly need the contribution of volunteers who provide expertise, preparedness and motivation and represent an indispensable segment of the overall social efforts in providing a variety of services for many categories of people exposed to different risks.
Our volunteers work with the young, provide support to the elderly, they help people to overcome the consequences of various disasters, they help the migrants, and they are at the vaccination sites every day. The volunteers provide home care for the older people and promote blood donation, they help us raise public awareness on health care, and help us with organizing first aid trainings and they participate in all activities of the organization.
Special gratitude to all volunteers in the Republic of North Macedonia. We are happy that volunteers recognize the Red Cross as a place that can give them additional meaning in their lives, a place where they can realize their desires and knowledge, an organization in which they can enhance their competencies, and opportunity to find hidden values ​​that make us better people.
Dear friends,
As the largest volunteer organization in the country, on this day we strongly strive to emphasize the values ​​of volunteering before all social structures at national and local level in order to initiate normative frameworks that will enable nurturing, recognition and highlighting of volunteer work in order to ensure a wide range of volunteer services, giving our contribution to the social environment especially in crisis situations.
It is necessary to establish a volunteer system through which we will always be ready to deal with various types of health and social challenges and disasters, because in such situations volunteers are our greatest potential for providing complementary support to the efforts of humanitarian organizations and institutions in the country.
On behalf of the Red Cross of the Republic of North Macedonia, let me once again sincerely congratulate you the International Volunteer Day, December 5 and to thank all our volunteers for their contribution and achievements, and for the humanity that adorns their works.
Thank you
< go back