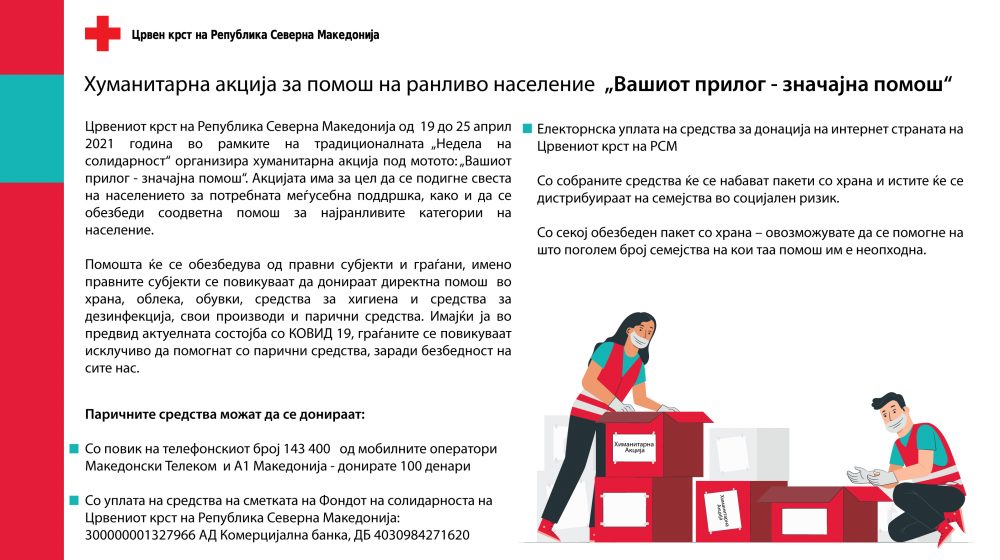 April 19, 2021
Humanitarian action to help the vulnerable population "Your contribution – a significant help"
Within the traditional "Week of Solidarity the Red Cross of the Republic of North Macedonia " organizes a humanitarian action under the motto: "Your contribution – significant assistance." in the period of 19 – 25 April 2021. The action aims to raise the awareness of the population for the necessary mutual support, as well as to provide adequate assistance to the most vulnerable categories of the population.
The assistance will be provided by legal entities and citizens, namely legal entities are invited to donate direct assistance in food, clothing, footwear, hygiene and disinfectants, their own products and funds. Having in mind the current situation with COVID-19, the citizens are called exclusively to help with funds, for the safety of all of us.
Financial contributions can be donated:
by calling the telephone number 143 400 from the mobile operators Makedonski Telekom and A1 Macedonia – you donate 100 denars
by payment of funds on the account of the Solidarity Fund of the Red Cross of the Republic of North Macedonia: 300000001327966 AD Komercijalna Banka, DB 4030984271620
electronic payment of funds for donation on the website of the Red Cross of RSM
The raised funds, will be used for procurement of food parcels and they will be distributed to families at social risk.
With each food parcel provided – you help us to support as many families in need as possible.
< go back