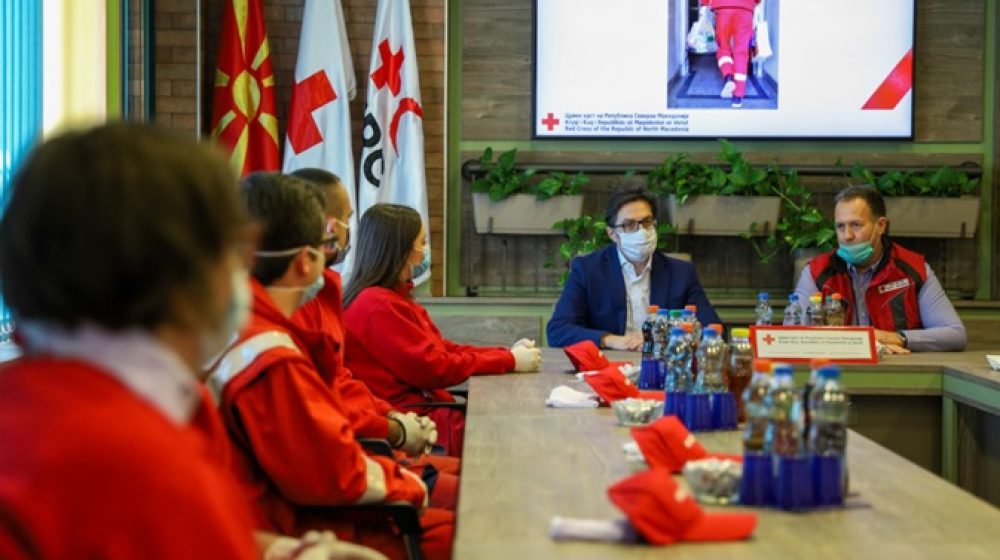 April 11, 2020
Meeting of President Pendarovski with the Red Cross volunteers: You are the best example of solidarity in action
Today, the President of the Republic of North Macedonia, Stevo Pendarovski, met and talked with several volunteers at the premises of the Red Cross.
Emphasizing the importance and contribution of the thousands of Red Cross volunteers, at the meeting, President Pendarovski congratulated them on their commitment, motivation and sacrifice in these difficult times for our country.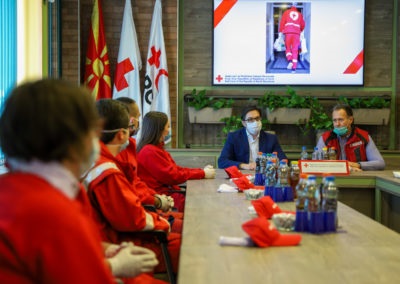 He pointed out that their will and desire to provide services voluntarily and to help vulnerable citizens is especially important, without expecting in return any material or financial gain.
It is a pleasant surprise, as President Pendarovski said, that thousands of mostly young people are helping everyone in need.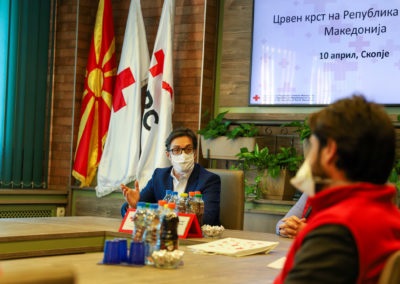 "I am glad that you do not have any prejudices and that you show that solidarity is not lost. You restore the confidence that not everything is lost, that humanity exists. I'm thrilled with what you're doing. I can only ask you to persist in your endeavors, as this situation is likely to continue in the future. I know it's not simple. I want to thank you, as a person, not as president. This is solidarity in form as good as it can be. Just keep up the good work, "said President  Pendarovski  in the conversation with the Red Cross volunteers.
At the same time, today President Pendarovski talked via video link with representatives of the operational center, and with the teams of the Red Cross branches of Karposh and Bitola. President Pendarovski was also briefed about the experience so far in coping with the pandemic of the COVID-19 virus from the Red Cross team which provides assistance and support to migrants and refugees sheltered in the Tabanovce transit center.
"Special gratitude for all the efforts you have made so far in this crisis. I would like to ask you, because it is more difficult for you than for all other citizens, to continue your engagement because you are setting a great example for all of us, how we should position ourselves when it is difficult for all of us. You are a shining example," President Pendarovski told the Red Cross teams.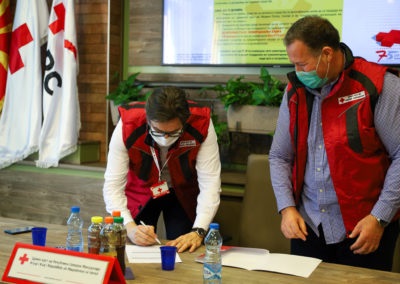 During the visit to the Red Cross, President Pendarovski was introduced to a series of activities implemented by this organization during the coping with the epidemic of the virus COVID-19, with which the organization contributes to the community and promotes civic and social responsibility. The activities, as emphasized by the Red Cross representatives, are carried out exclusively with the help and support of about 7,500 volunteers, and include purchase and delivery of food and medicine supplies, payment of bills, assistance and support to migrants and refugees, assistance to homeless people. and other types of support to older citizens.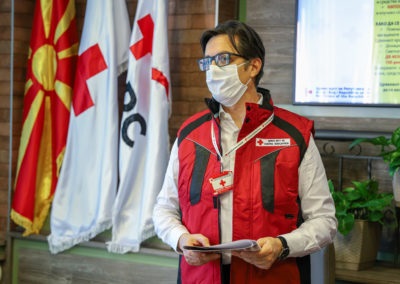 During today's visit to the Red Cross, President Pendarovski also received a volunteer card and became part of the organization's volunteer team. Also, President  Pendarovski donated blood today, emphasizing that blood donation represents the highest level of solidarity.
< go back