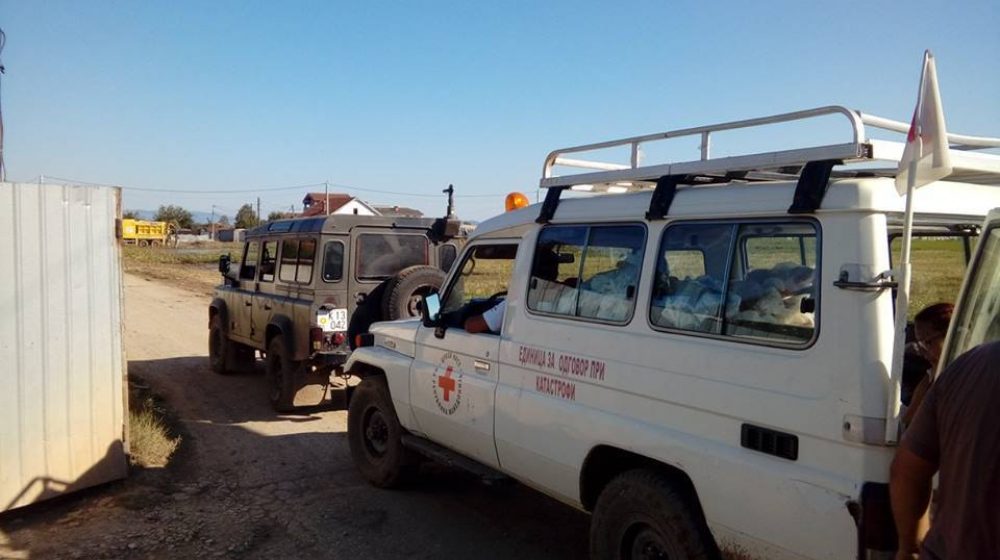 August 29, 2016
Public call for support of the affected population in the floods in Skopje and Tetovo – 15 August
Macedonian Red Cross through its 7 mobile teams or 150 volunteers and staff, continues to support the affected population in the natural disasters. Until today there is distributed humanitarian relief consisted of 23.954 food parcels (1 parcel for a family 4 members), 21.000 daily meals, 9.700 hot meals, 9.519 l milk, 13.322 l yogurt, 3.740 hygiene parcels, 191 tons of drinking water, 732 packs of diapers, 556 mattresses, 3.708 blankets, 600 kg of clothes, 491 pair of boots, 332l disentail. Also to 111 persons there was administered first aid by the Red Cross teams and there were 4 emergency medical transports.
In the 4 reception centers Ranka Milanovic, Senic, Partenie Zografski and FON dormitory where are accommodated 230 persons, distributed was relief such as medicaments and therapy for the chronical diseases and vitamin therapy for the most vulnerable.
The citizens can call the Red Cross phone on 02/3139-578 for any additional information.
According the information from the field, Macedonian Red Cross is calling for donations of the following products: canned food, baby food and diapers, hygiene items and disinfection items, shovels, rubber boots, buckets, rubber gloves, towels diapers for grownups and plastic trash bags. The donations can be delivered in the Red Cross Warehouses in Momin Potok, Skopje 08-18.00 hours. (Contact phone: 3096 227).
Interested legal subjects or citizens can additionally engage with provision of financial support:
Bank account of the Solidarity fund 300000001327966 Tax number 4030984271620 – Komercijalna banka
Until now there were 23.298.578 MKD donated on the Solidarity fund Bank account
–     Donation of 100 MKD with phone calls at: 075/070/077 143 400
Until now there were 12.889.000 MKD donated through the mobile phone operators.
The fundraising activities are planned to last for 15 days from the day of opening of the accounts (7th of August 2016), and the possible extention would depend upon the interest of the citizens and legal bodies. After the fundraising activities all the funds will be transferred to the accounts of the citizens that were affected by the disaster in reference with the assessment of the authorized committees that are on field.
Donations in foreign currency:
NAME OF THE ORGANIZATION: MACEDONIAN RED CROSS
BANK NAME: KOMERCIJALNA BANKA AD SKOPJE
BANK ADDRESS: UL. ORCE NIKOLOV NO.3, 1000 SKOPJE, MACEDONIA
BANK ACCOUNT: 300000000000133 25730522-11
SWIFT CODE: KOBSMK2X
IBAN CODE: MK07300701000001228
We call in our donation activities for humanitarian support to be followed the instructions of the relevant institutions and the Macedonian Red Cross in order to have more efficient response with the consequences of the natural disaster.
< go back