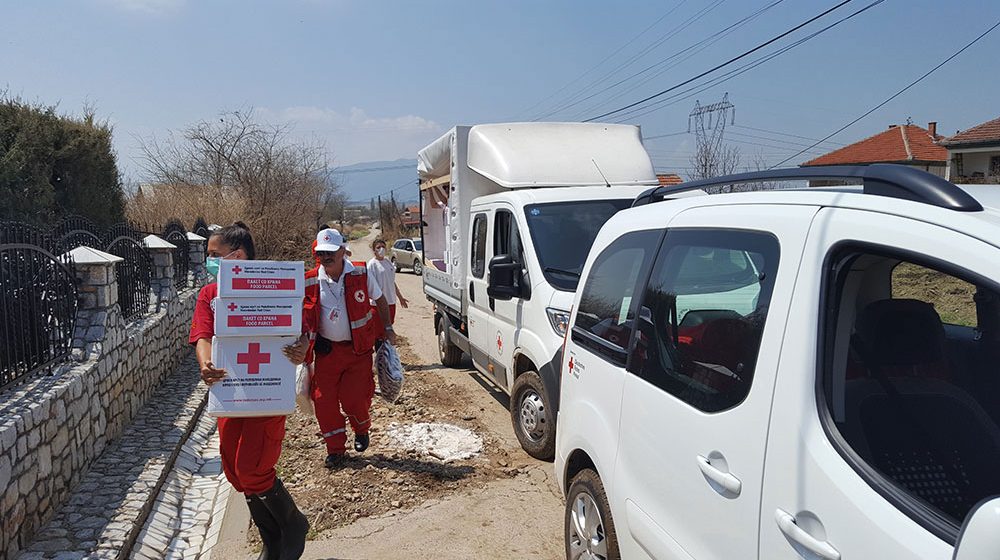 August 29, 2016
Public call for support of the affected population in the floods in Skopje and Tetovo
During the past 5 days Macedonian Red Cross teams have been included in support activities of the affected population from the floods in Skopje and there was distribution of humanitarian relief consisted of 11.081 food parcels (1 parcel for a family 4 members), 3.127 l milk, 3.930 l yogurt, 1.039 hygiene parcels, 82.5 tons of drinking water, 350 packs of diapers, 424 mattresses, 1.240 blankets, 598 kg of clothes, 2236 shoes, 240l disentail. Also to 70 persons there was administered first aid by the Red Cross teams and there were 4 emergency medical transports.
In the entire operation involved were 110 persons (volunteers and staff from Macedonian Red Cross), 7 mobile teams for first aid and the entire logistic potential of Macedonian Red Cross is activated.
According the information from the field, Macedonian Red Cross is calling for donations of the following products: canned food, baby food and diapers, hygiene items and disinfection items, shovels, rubber boots, buckets, rubber gloves and flash lights.
The donations can be delivered in the Red Cross Warehouses in Momin Potok, Skopje 08-18.00 hours. (Contact phone: 3096 227).
Interested legal subjects or citizens can additionally engage with provision of financial support:
Bank account of the Solidarity fund 300000001327966 Tax number 4030984271620 – Komercijalna banka
Until now there were 16.956.072 MKD donated on the Solidarity fund Bank account
–     Donation of 100 MKD with phone calls at: 075/070/077 143 400
Until now there were 9.348.000 MKD donated through the mobile phone operators.
Donations in foreign currency:
NAME OF THE ORGANIZATION: MACEDONIAN RED CROSS
BANK NAME: KOMERCIJALNA BANKA AD SKOPJE
BANK ADDRESS: UL. ORCE NIKOLOV NO.3, 1000 SKOPJE, MACEDONIA
BANK ACCOUNT: 300000000000133 25730522-11
SWIFT CODE: KOBSMK2X
IBAN CODE: MK07300701000001228
We call in our donation activities for humanitarian support to be followed the instructions of the relevant institutions and the Macedonian Red Cross in order to have more efficient response with the consequences of the natural disaster.
Public relations
Macedonian Red Cross
< go back