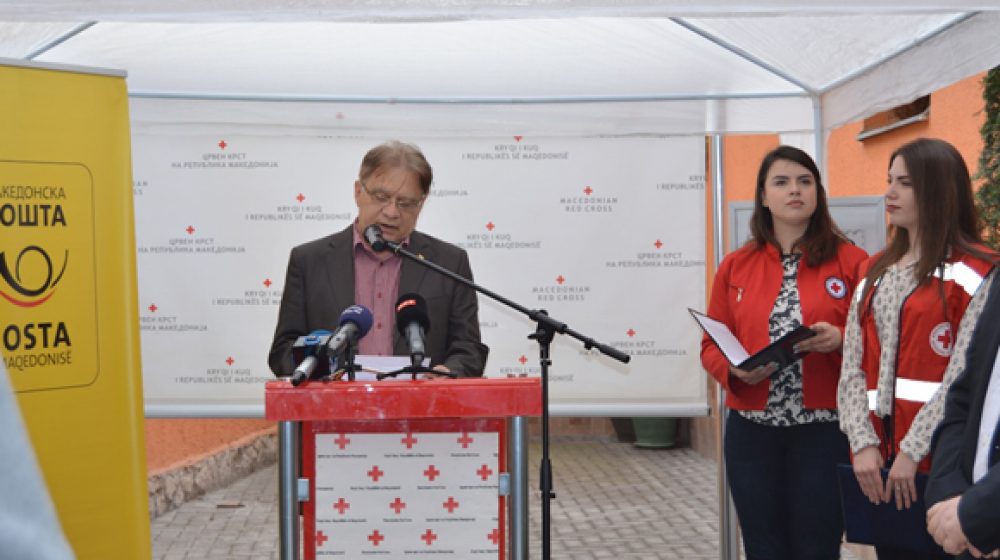 May 8, 2017
8th of May – World Red Cross and Red Crescent Day and 8-15th of May – the week of the Macedonian Red Cross
Macedonian Red Cross today has marked May 8 – World Red Cross and Red Crescent Day. On this occasion promoted was a postage stamp, and as part of the global marking, the Macedonian Red Cross with the City Red Cross of Skopje have joined the global campaign of the International Federation of Red Cross and Red Crescent which takes place under the slogan "Everywhere for everyone".
World Red Cross and Red Crescent day is marked in all 190 National societies in honor of the founder of the Red Cross and Red Crescent Movement, Henry Dunant, who was born exactly on May 8. In 1863, his idea was presented in his landmark book "Memories of Solferino", which was transformed into reality through the creation of the International Committee of the Red Cross and the founding of the first national societies followed with the adoption of the First Geneva Convention in 1864. Guided by the Fundamental principles, we mobilize the power of humanity to save lives and reduce suffering.
Macedonian Red Cross is an organization in the Republic of Macedonia, which includes a network of 34 Red Cross Branches, the City Red Cross of Skopje, with a total of 102 employees, 10,042 registered members and 3,648 active volunteers who are part of the local communities and a bridge to our final beneficiaries.
The event was opened by the President of the Macedonian Red Cross, Dr. Milcho Trajkov who briefly shared with the audience  the engagement of the Macedonian Red Cross, as the greatest humanitarian movement in the world in terms of access to health care and support for people in crises, disasters or outbreaks of viruses, and providing food and shelter. Furthermore, he stressed that the movement provides restoring family links and forensic support, psychological and financial support to the families where there are missing persons as a result of conflicts, disasters or crises. Movement of Red Cross and Red Crescent is committed to addressing the needs of the migrants in order to provide protection and assistance along the migration routes. The Movement meets the needs for essential water and sanitation needs in times of crisis and provides emergency and rescue interventions.
Addressing also had the General Director and Chairman of the board of JSC Macedonian Post Skopje, Mr. Rexhepi Faadis who expressed satisfaction with the fruitful joint cooperation of JSC Macedonian Post and the Macedonian Red Cross. He stressed that: as a result of joint cooperation they are issuing an extra charge postage stamp on the occasion of May 8 – World Red Cross and Red Crescent day, through which we want to once again emphasize and promote the importance of mutual understanding, friendship, cooperation and lasting peace among all peoples.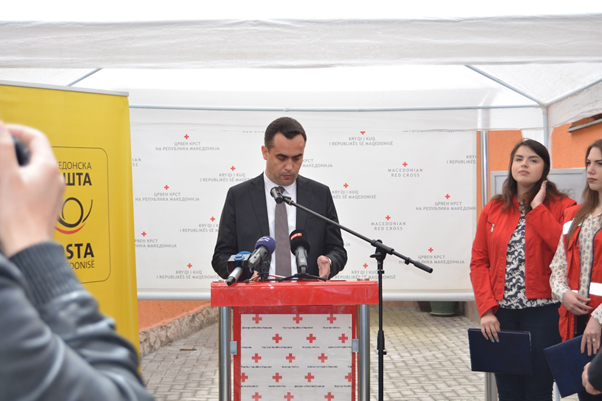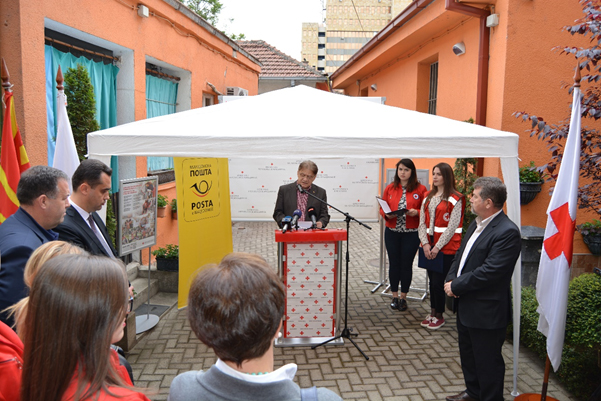 < go back