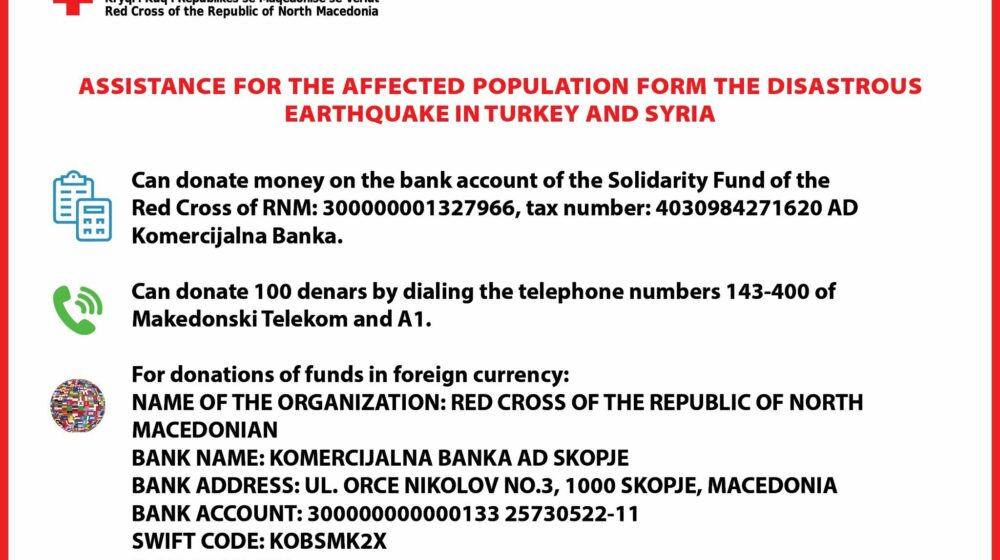 February 6, 2023
Assistance for the affected population form the disastrous earthquake in Türkiye and Syria
The strong disastrous earthquake of 7.8 degrees on Richter scale that struck Türkiye and Syria on February 6, 2023 caused significant material damage, injuries and human losses.
The Red Cross of the Republic of North Macedonia expresses sincere condolences to the people of Türkiye and Syria for the victims of the terrible earthquake. The Red Cross of RNM is in communication with the Turkish Red Crescent and the Syrian Arab Red Crescent, which were immediately offered initial assistance.
All interested legal entities and citizens:
Can donate money on the bank account of the Solidarity Fund of the Red Cross of RNM: 300000001327966, tax number: 4030984271620 AD Komercijalna Banka with indication: aid for the population in Türkiye and Syria.
Can donate 100 denars by dialing the telephone numbers 143-400 of Makedonski Telekom and A1.
For donations of funds in foreign currency:
NAME OF THE ORGANIZATION: RED CROSS OF THE REPUBLIC OF NORTH MACEDONIAN
BANK NAME: KOMERCIJALNA BANKA AD SKOPJE
BANK ADDRESS: UL. ORCE NIKOLOV NO.3, 1000 SKOPJE, MACEDONIA
BANK ACCOUNT: 300000000000133 25730522-11
SWIFT CODE: KOBSMK2X
IBAN CODE: MK07300701000001228
< go back