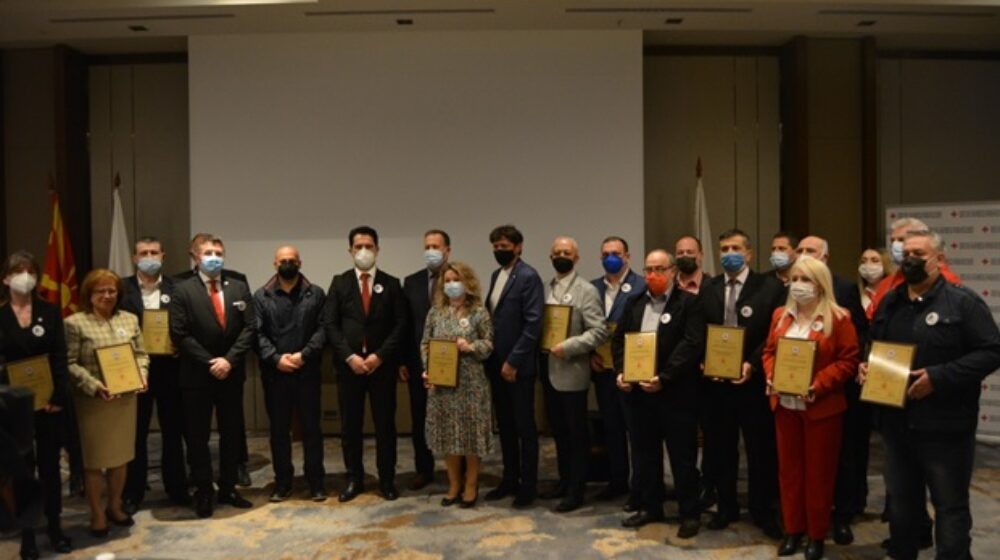 March 24, 2022
MARKING THE BLOOD DONATION DAY
March 17 – the Blood Donation Day in RNM was marked with a special event today in the hotel DoubleTree by Hilton – Skopje.  The event was attended by the Minister of Health Dr. Bekim Sali, the President of the Red Cross of RNM prof. Dr. Romel Velev, the Secretary General of the Red Cross of RNM PhD. Sait Saiti, representatives of institutions, as well as representatives of the Red Cross branches.
The President of the Red Cross, prof. Dr. Romel Velev addressed the present at the event was, pointing out that blood donation develops the qualities of humanity and solidarity and has an educational significance for the citizens, especially for the young people, and contributes to raising the level of health culture and public awareness. During the COVID-19 pandemic, we continuously called on blood donors to continue their essential service to support and maintain our health care system. Despite all the difficulties and unintended consequences, the citizens were prepared to donate blood in increasing numbers. One thing will always remain constant with blood donation, donors save lives. And for that, we will always be grateful.
The Minister of Health, Dr. Bekim Sali also addressed the audience and he emphasized that the Red Cross is our permanent partner in the implementation of activities for continuous educational and motivational program among the population, immediate preparation of blood donation actions and preparation of information materials, participation of volunteers and awarding blood donors.
As a sign of gratitude, the Minister of Health presented awards to 16 Red Cross branch organizations that fulfilled the blood donation plan in 2021. (the red Cross branches of Bitola, Veles, Vinica, Demir Hisar, Delchevo, Kavadarci, Kriva Palanka, Negotino, Probishtip, Sveti Nikole, Struga, Shtip, Gazi Baba, Karposh, Centar and Chair).
The Red Cross of RNM expresses its gratitude to h. DoubleTree by Hilton- Skopje for their support in organizing the event as a socially responsible company.
< go back