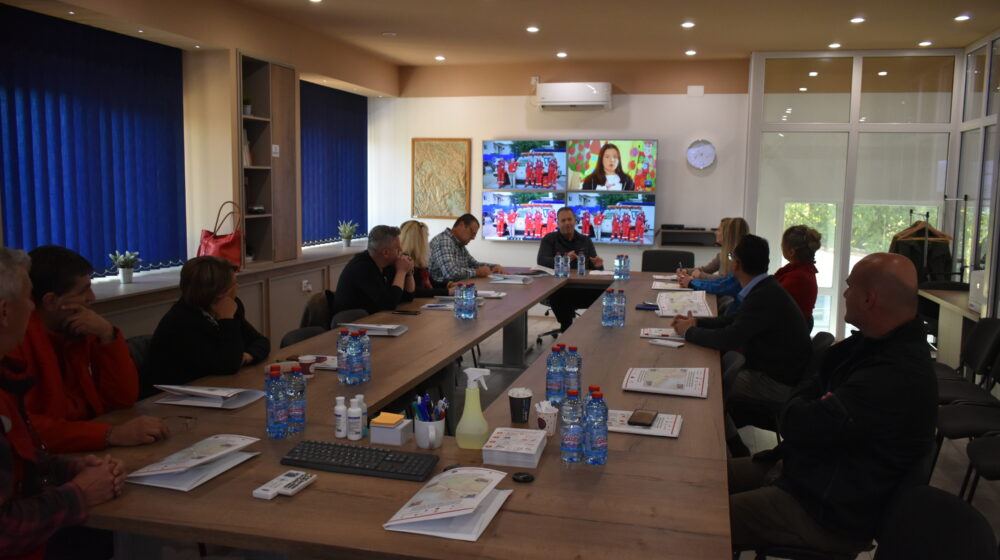 October 20, 2022
MEETING WITH STAKEHOLDERS
Within the framework of the Regional Project "X-Stock – Strengthening cross-border preparedness through joint management of stock reserves for emergency situations in South-Eastern Europe", the Red Cross of RNM organized a meeting with representatives of the Directorate for Protection and Rescue, Center for Crisis Management, Ministry of Foreign Affairs and Ministry of Labor and Social Work. The meeting was held on 18.10.2022 in the Disaster Preparedness and Response Center of RCRNM in Momin Potok.
The project is funded by the Directorate General for European Civil Protection and Humanitarian Activities of the European Commission (DG ECHO), the Austrian Development Agency and the Austrian Red Cross. In addition to the Red Cross of the RSM, the project includes Red Cross national societies from Austria (project leader), Serbia, Croatia, and Bulgaria, the International Federation of the Red Cross and the Red Crescent Societies, as well as a representative of the Protection and Rescue Directorate of the RNM, and the Emergency Management Administration at Ministry of Internal Affairs of Montenegro.
At the meeting, the participants were greeted by the Secretary General of the Red Cross of RNM, PhD. Sait Saiti, who spoke about the importance of the utilization of the software application that is in the final stage, targeted for regional management of supplies in case of disasters, for ensuring rapid flow of communication and facilitation of cooperation between the national societies of the Red Cross and state institutions in emergency situations.
< go back