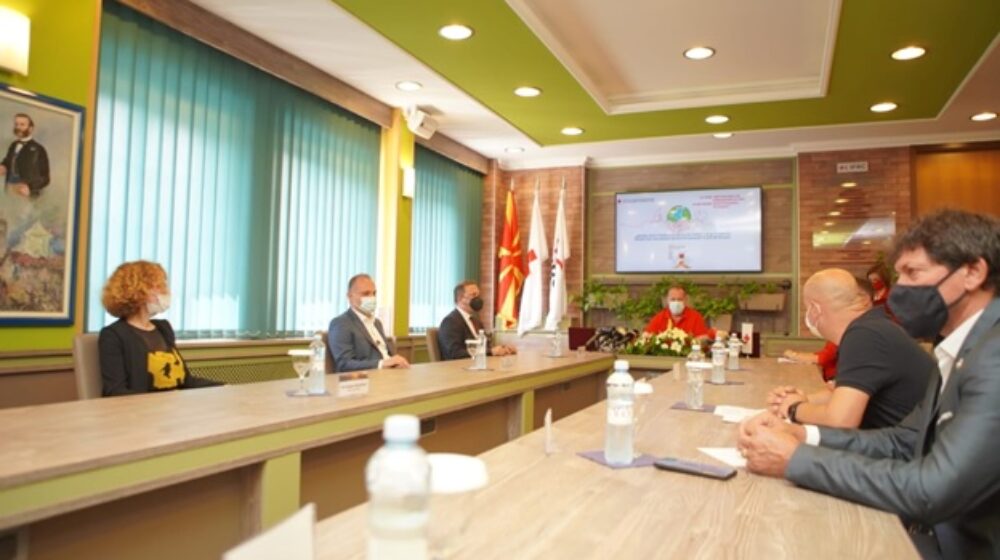 June 21, 2021
Presentation of certificates of appreciation
On the occasion of June 14 – the World Blood Donation Day, the Red Cross of the Republic of North Macedonia, joined the global campaign to promote blood donation under the motto "Donate blood and contribute to keep the world moving."
Today, the Red Cross of RNM in cooperation with the Institute for Transfusion Medicine of RNM, presented certificates of appreciation to the Ministry of Health, the Ministry of Interior and the Ministry of Defense of RNM as tokens of appreciation for the cooperation in the area of blood donation. The Minister of Health, Venko Filipche, the Minister of Interior Oliver Spasovski and the Minister of Defense Radmila Shekerinska also received certificates of appreciation for their personal example, support, encouragement and cooperation.
In his introductory address, the Secretary General of the Red Cross of the Republic of North Macedonia Sait Saiti emphasized that access to safe blood for all those in need remains the highest imperative of the countries in the world, including us. During the Covid-19 pandemic, despite limited mobility and other challenges it brought with it, blood donors continued to donate blood and plasma to patients who needed transfusions. This remarkable effort during a pandemic emphasizes the key role of well-organized, committed, voluntary, and unpaid donors in the ongoing and emergency blood supply process.
At the event itself, there were live calls on the ZOOM platform, from the Daily Center for Blood Donation, where the members of the ARM donated blood, and the Institute for Transfusion Medicine, where the members of the Ministry of Interior donated blood.
< go back