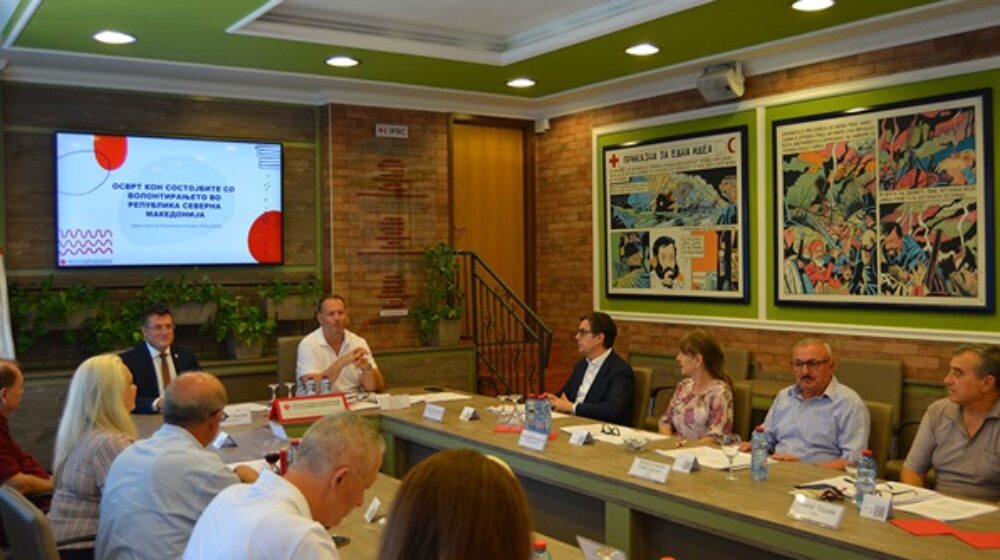 July 7, 2022
President Pendarovski in visit of the Red Cross
The President of the Republic of North Macedonia Stevo Pendarovski today attended a meeting of the Governing Board of the Red Cross of the Republic of North Macedonia, where the development of volunteering in the country was discussed and the "Transformation 28" process was presented as a development framework for the organization in the next five-year period.
President Pendarovski was informed about the current activities of the Red Cross, about their recommendations in order to improve legal solutions regarding volunteering, as well as about the necessity of finding new, creative forms and contents in order to encourage and mobilize volunteers.
The President emphasized that it is important to maintain the level of motivation among volunteers even in periods when we are not facing crisis situations, as was the case with the pandemic, stressing that there is no better motivation to encourage volunteerism than giving practical and personal examples. At the same time, he pointed to the importance and benefit of representation of different generational structures in the volunteer ranks. He once again expressed his gratitude to all volunteers for their sacrifice and commitment, encouraging them to continue contributing to the well-being of our society and in the interest of the target groups they serve.
In the conversation with the members of the Governing Board, the president welcomed the "Transformation 28" process, pointing out that it represents a step forward in the development, operation and adjustment of the Red Cross, with the aim of efficient and progressive functioning and adequate and timely satisfaction of the needs of the community.
The Secretary General of the Red Cross, Sait Saiti, expressed his gratitude to President Pendarovski for the cooperation and continuous support of the activities of the organization, as well as for his commitment to the implementation of the humanitarian commitments of the Red Cross of the Republic of North Macedonia.
< go back