December 2, 2019
Raised 5.154.730 denars or 83.749 Euros
The Red Cross of the Republic of North Macedonia continues to monitor and implement activities for the victims of the earthquake that struck Albania.
The Red Cross with the support of the citizens and companies Immorex Macedonia DOO, Gemak Trade, Parkland, Komercijalna Banka AD Skopje, Pensioners Association, Laby47, The City Red Cross of Skopje and the Red Cross Branches as well as some of the most distinguished music artists that donated on the Solidarity bank account and  the donation phone numbers as of today 02.12.2019 raised funds amounting to 5,154,730 denars or 83,749 euros.
At the same time we would like to remind you that the donation numbers are available for the clients of Makedonski Telekom (tel)143 400 and for the clients of A1 Macedonia (tel) 143 400 where you can donate 100 denars with one call from any operator.
Interested individuals and companies can also donate through the Solidarity Fund, Bank account 300000001327966.
Citizens of other countries they can donate through:
NAME OF THE ORGANIZATION: RED CROSS OF THE REPUBLIC OF NORTH MACEDONIA
BANK NAME: KOMERCIJALNA BANKA AD SKOPJE
BANK ADDRESS: UL. ORCE NIKOLOV NO.3, 1000 SKOPJE, NORTH MACEDONIA
BANK ACCOUNT: 300000000000133 25730522-11
SWIFT CODE: KOBSMK2X
IBAN CODE: MK07300701000001228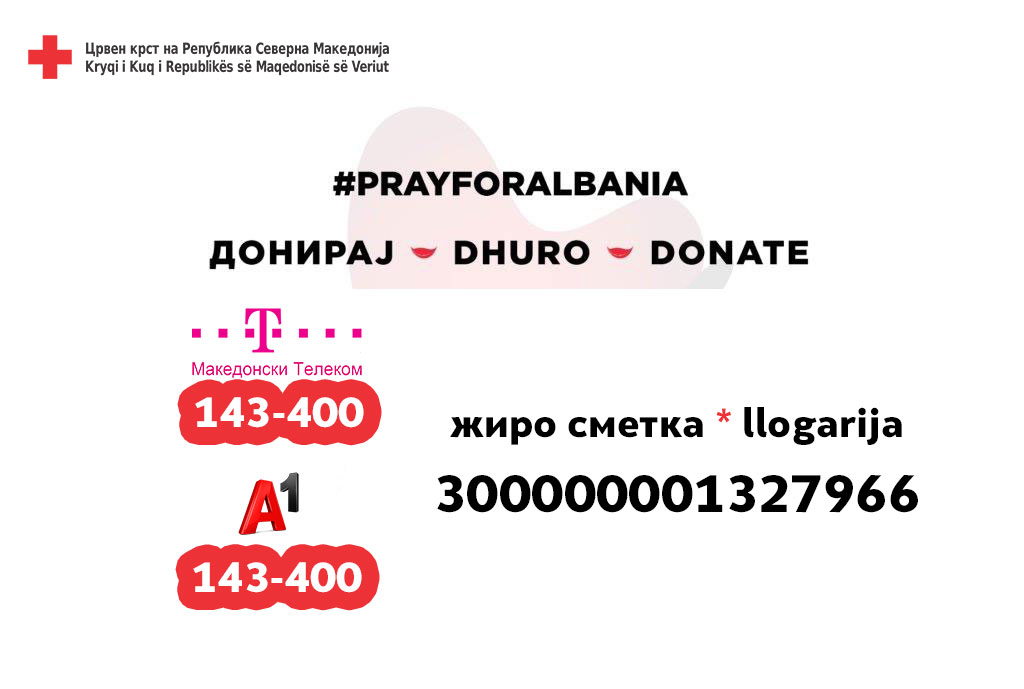 < go back