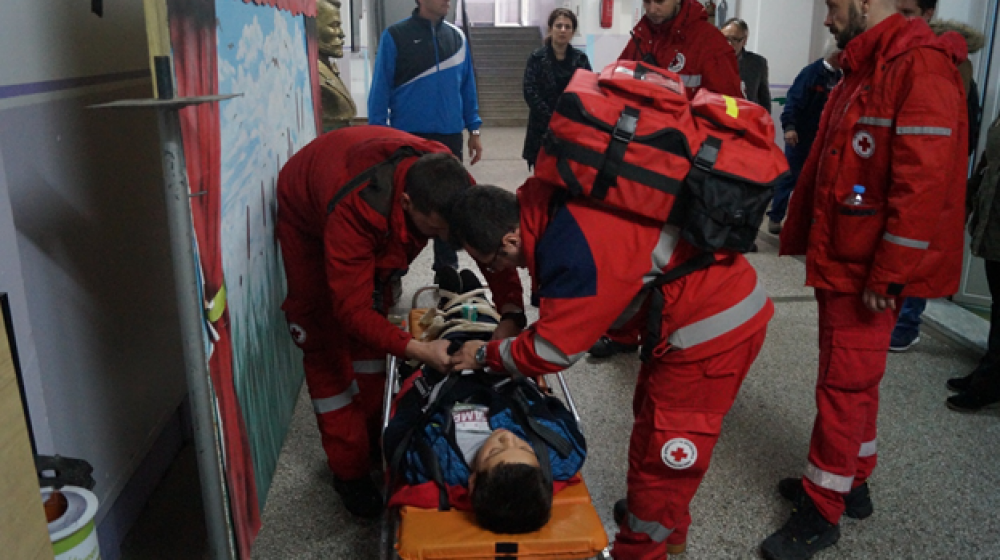 November 27, 2018
Simulation Exercises on Evacuation for Primary Schools in Gevgelija
Within the framework of the Program for Disaster Preparedness and Response, with the financial support of UNICEF, in November 2017, the Macedonian Red Cross started the implementation of a project aimed at preparing the educational staff for acting in conditions of natural disasters in order to reduce  the risks that kindergartens and primary schools can face in Gevgelija, Kumanovo and Skopje ".
Within the final phase of the project, the simulation exercises for evacuation of personnel and children in kindergartens and primary schools are under preparation, through which we will check the acquired knowledge during the conducted trainings for protection and self-protection, and at the same time practical we will check the panic signaling and its use and functioning.
On the territory of Gevgelija, the following simulation exercises were held: the primary school Krste Petkov Misirkov and the Primary School Vlado Kantardziev.
During the simulation exercises, the personnel of the primary schools in coordination with the Macedonian Red Cross trainers and the first aid teams of the Macedonian Red Cross – Red Cross Branch Gevgelija conducted the procedure for protection and self-protection in case of a disaster, evacuation,and  also  providing first aid with students and responsible teachers.
< go back