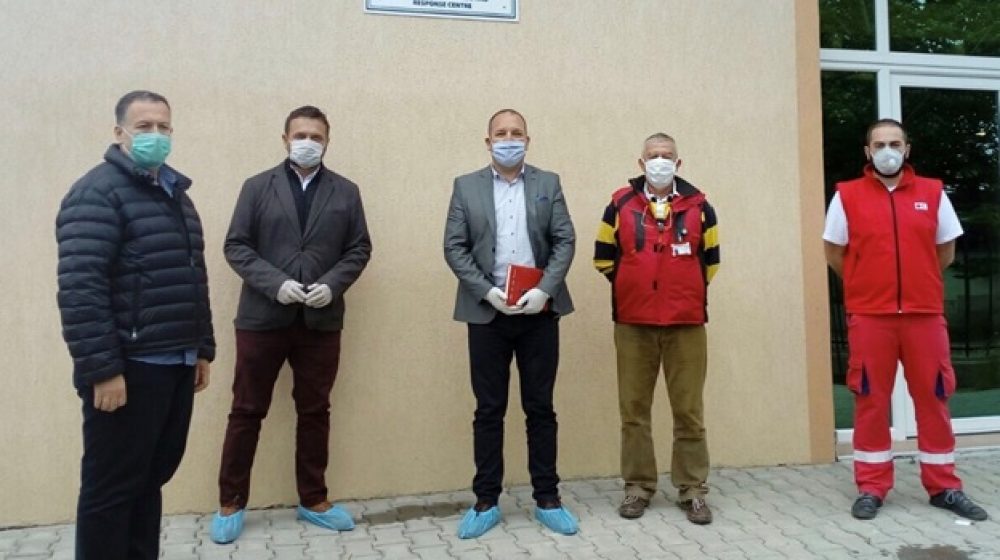 May 13, 2020
The Faculty of Security-Skopje and the Red Cross of RNM will cooperate in building the system for disaster preparedness and response
The Dean of the Faculty of Security prof. Dr. Nikola Dujovski and the Vice Rector of UKLO prof. Dr. Marjan Gjurovski visited the Disaster Preparedness and Response Center of the Red Cross of the Republic of North Macedonia, where they met with the Secretary General of the Red Cross of RNM, PhD. Sait Saiti, and with the Head of the Disaster Preparedness and Response Center, Mr. Ali Samet and several volunteers and staff at the Center.
During the meeting, the Vice-Rector and the Dean had the opportunity to get acquainted with the activities undertaken by the Red Cross to help and support the institutions and the population during the pandemic Covid-19. The meeting was used for discussing the existing cooperation between the faculty and the Red Cross and specific activities for training and implementation of joint projects.
The Red Cross has significant resources which are at the disposal of the state institutions for coping with the health crisis, and provision of assistance to the affected population by delivering humanitarian food parcels and hygiene items. It can be noticed that the coordination of the activities within the organization is at a high level, and with their expertise they give serious support to the state institutions.
The activity was realized within the field activities of the project "Functioning of the security system in times of emergencies and/or crisis situations", for which significant information and data were collected that will be used in the further stages of implementation and giving recommendations for building an effective crisis management and protection and rescue system, as well as the functioning of the overall security system. The Faculty of Security-Skopje and the Red Cross of RNM will cooperate in building the system for disaster preparedness and response.
< go back