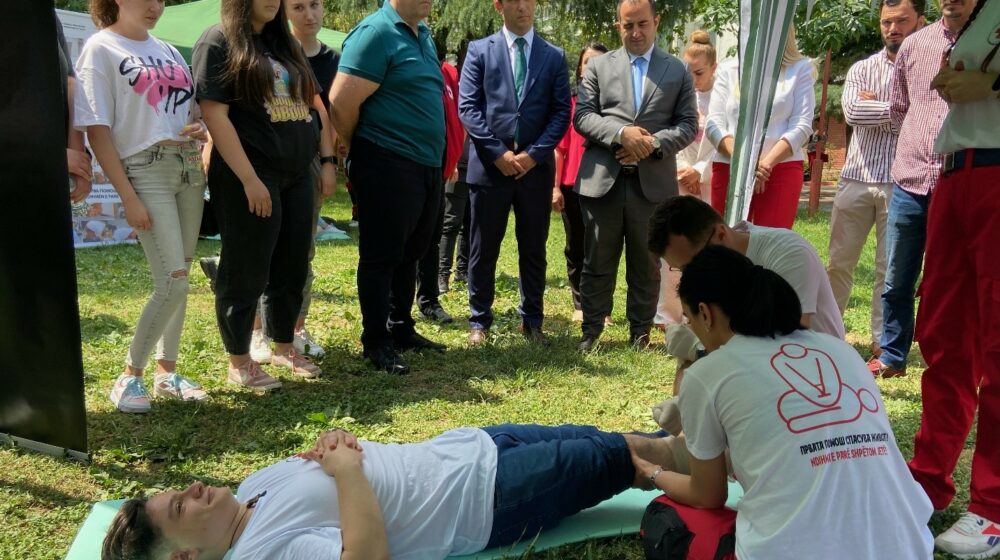 June 7, 2022
The Red Cross conducted First Aid training in SEPUGS "Arseni Jovkov" – Skopje
Within the campaign "First Aid Saves Life", the Red Cross of the Republic of North Macedonia conducted first aid training for students from SEPUGS "Arseni Jovkov" – Skopje on 07.06.2022.
The training was attended by the Secretary General of the Red Cross Sait Saiti, the Minister of Health Bekim Sali and the Minister of Education and Science Jeton Shaqiri who expressed strong support for the Red Cross initiative to promote first aid in educational institutions.
The Secretary General of the Red Cross Sait Saiti stressed that first aid is an invaluable life skill that young people need to upgrade throughout life. But first aid is not just knowledge and the ability to perform life-saving skills, first aid is a gesture of solidarity and humanity, a gesture that mobilizes people and communities to preserve and protect life.
Since May 2022, the Red Cross of the Republic of Northern Macedonia started a first aid campaign under the motto First aid saves lives, which envisages free first aid training for 25,000 primary and secondary school students across the country by the end of the year.. Within these trainings, students will have the opportunity to gain basic knowledge on administering first aid as a quick and vital intervention aimed at saving lives, but also to reduce the complications of injuries and disability.
We hope that many of these young people in the future will become part of the Red Cross Movement and will continue to promote solidarity and humanity, which will make our country a more pleasant place to live.
< go back