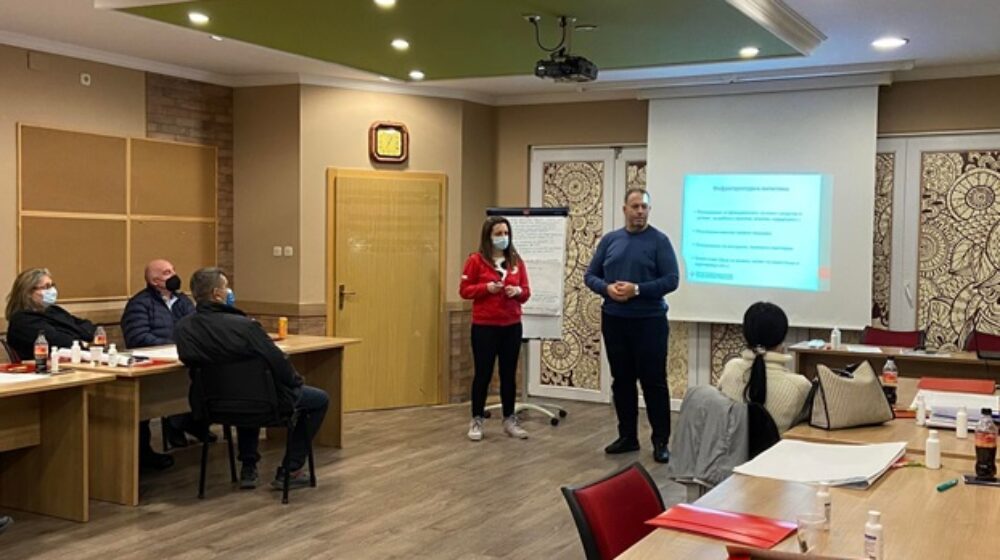 November 23, 2021
Workshop for mentoring development program of 8 Red Cross branches
Within the initiative for development of 8 Red Cross branches and the established dynamics for establishing a mentoring development program with the Red Cross branches of Vinica, Debar, Delchevo, Demir Hisar, Kochani, Resen, Sveti Nikole and Tetovo, a workshop attended by a total of 25 people was held in the period 19-21.11.2021 in the Red Cross center Solferino in Struga.
The national society concluded that there is a need for undertaking development initiatives to improve the overall operation of the organization as a result of the conducting several processes in 2021 for assessment of the current situation in the Red Cross branches and the City Red Cross of Skopje, as well as the evaluation of achievements in program work. At the local level, local teams were established with representatives of the governing and management structure of the Red Cross branches, which during the workshop were supported by the staff of the Head Office of the Red Cross of RNM to define a plan and priorities for development for the next 6 months and dynamics to follow the achieved progress.
First, the current situation and challenges in the Red Cross Branches were mapped, after which plans were defined according to which concrete steps will be taken for the coming six months.
After the end of the workshop, it was agreed the proposed development plans to be finalized until November 29, 2021, followed by review and approval by the Head Office and to start their implementation in the period December 15, 2021-15.06.2022. The dynamics of monthly reporting and online meetings with the secretaries has been agreed, and it was concluded to conduct a one-day evaluation workshop in the period 15-30.06.2022.
At the workshop, the organizers conducted an evaluation of the satisfaction of the Red Cross branches related to the support provided by the Head Office of the Red Cross of RNM to the overall operation of the Red Cross branches.
< go back