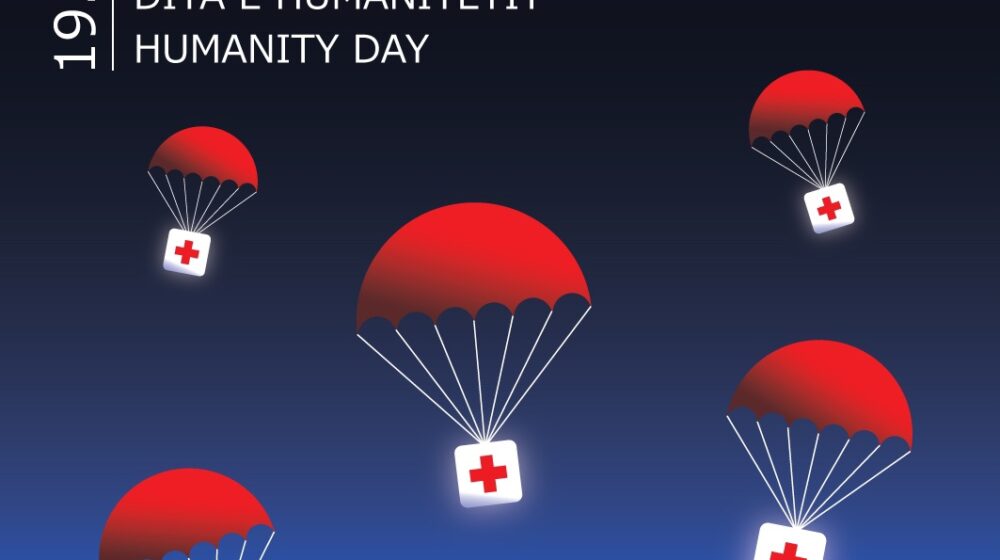 August 19, 2021
World Humanitarian Day
Each year, WHD focuses on a theme, bringing together partners from across the humanitarian system to advocate for the survival, well-being and dignity of people affected by crises, and for the safety and security of aid workers.
This year, the Red Cross Movement marks the day under the motto "Thank you humanitarians!", paying attention and gratitude to all humanitarian workers in our organization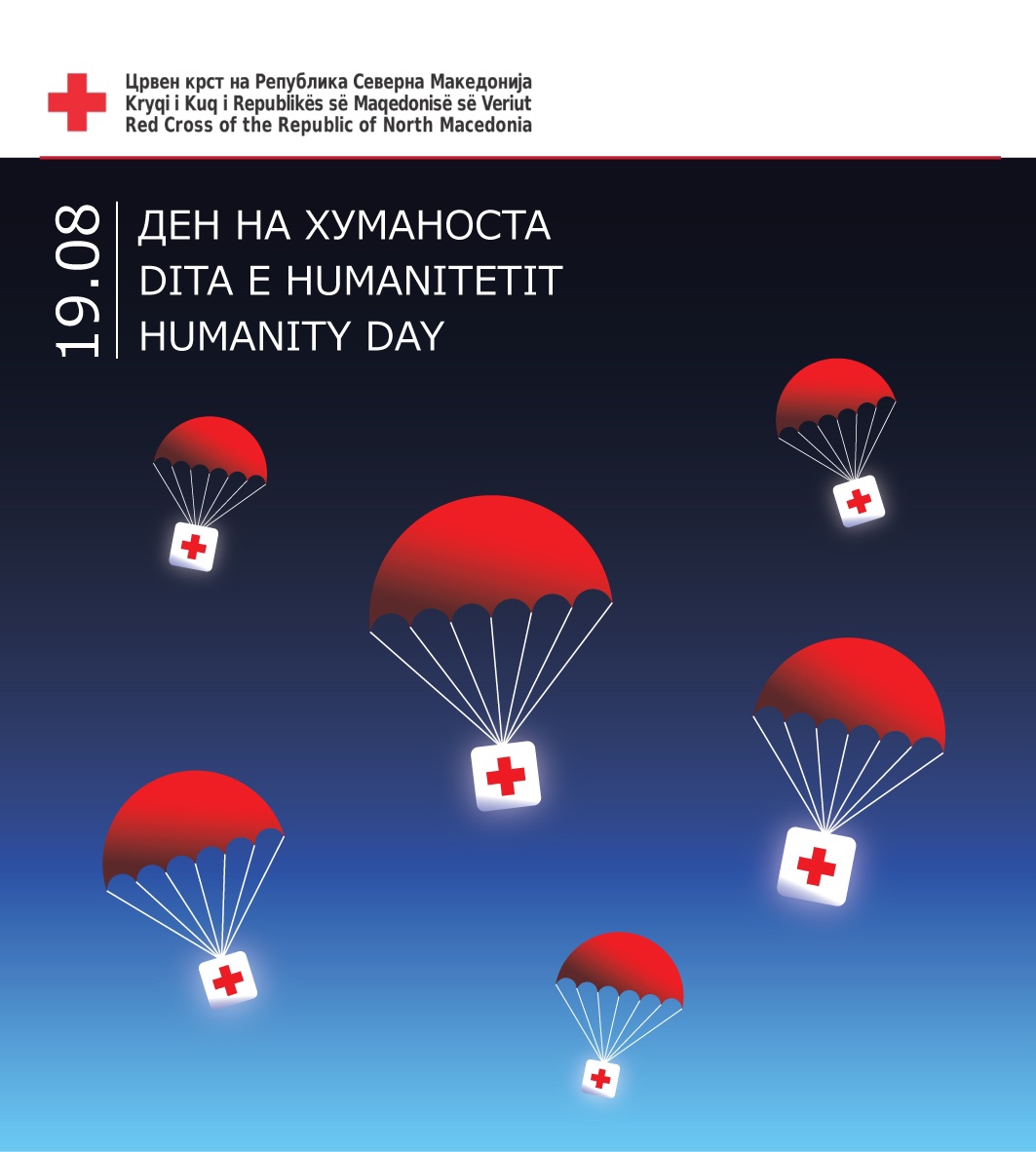 A.Z. (Syria) and S.M. (Democratic Republic of the Congo) – persons under subsidiary protection in the Republic of North Macedonia
"Due to the bad conditions in my country, my husband and I left Syria and went Greece, where our daughter was born, and then we came to North Macedonia. Unfortunately, the journey was not easy. Due to injury, my daughter and I had to stay in N.Macedonia, but my husband continues the journey." says A.Z.
"I also came to North Macedonia with my family during the refugee crisis. I stay here with my two children while my husband continued the trip "- shared S.M.
"In RNM, our life paths merged with AZ," says S.M. "In Skopje we live peacefully together, as one family. We help each other and support each other unreservedly in all situations. The support we continuously receive from the Red Cross has helped us deal with many life challenges. They always gave us a sense of hope that everything would be fine. In the Covid-19 pandemic, people from the Red Cross constantly gave us psycho-social support and advice on how to deal with fear and anxiety. With the support of the Red Cross, I got a volunteer job in their second-hand clothing store "Kopche/Button", and A.Z. in the Red Corss center for Persons with Disabilities "Spring".
Skopje is our home, where our children grow up.
Thank you / Благодариме / Botondi mingi / کران
Daut T. (user of the services of the Red Cross homeless shelter)
Life can be so unpredictable. From the top, it carries you to the bottom and it is difficult to get out of there. I had everything, but I also lost everything. I was left on the street, without my own home and a roof over my head. I became homeless.
A spontanius meeting with a friend of mine who also lives on the streets of Skopje prompted me to visit the Red Cross homeless shelter. I have been visiting it for 7 years and there I regularly maintain personal hygiene, I get clothes, shoes, blankets, food. A doctor examines me and gives me therapy if needed. The Red Cross also helps me with firewood, and the young volunteers helped me renovate and take care of a small garage where I still live. Thanks to the support of the Red Cross, in addition to being a user, I am also engaged as a barber in the Point. I regularly give haircuts and shave the other homeless people who come and advise them that they should take care of their hygiene even though they are on the street.
Thank you/ Благодарам/ Faleminderit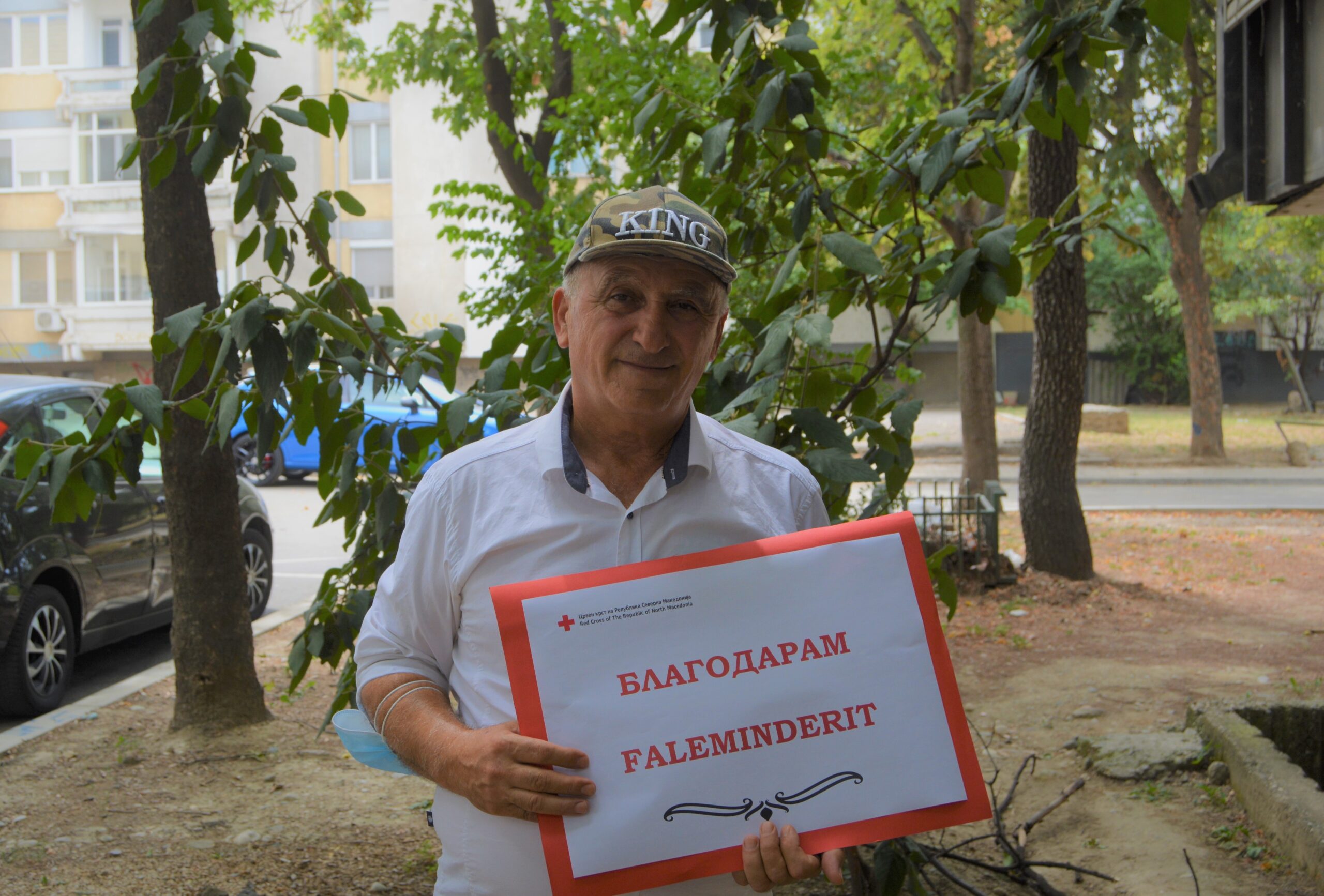 My name is Blagica, I am 71 years old and I have been an active user in the Daily Center for the Elderly at the Red Cross of the City of Skopje for 6 years. Coincidentally, through the media, I heard about the Day Care Center and suddenly got the urge to visit it. When I came to the premises, I was greeted by young and beautiful people full of positive energy, kindness and respect. They explained to me about all the activities that are realized in the Center, but I was most impressed by the Chikong exercises. I was in disbelief that even the elderly can exercise and have active aging even after the age of 65. In addition to practicing, I attend a knitting workshop, English course, I have attended many educational lectures, I am involved as a volunteer in many humanitarian bazaars and humanitarian activities. I will always be grateful to the Red Cross where I am active after retirement. Filled and with great enthusiasm I live my life in the third age.
Благодарам хуманитарци/ Thank you humanitarians
< go back