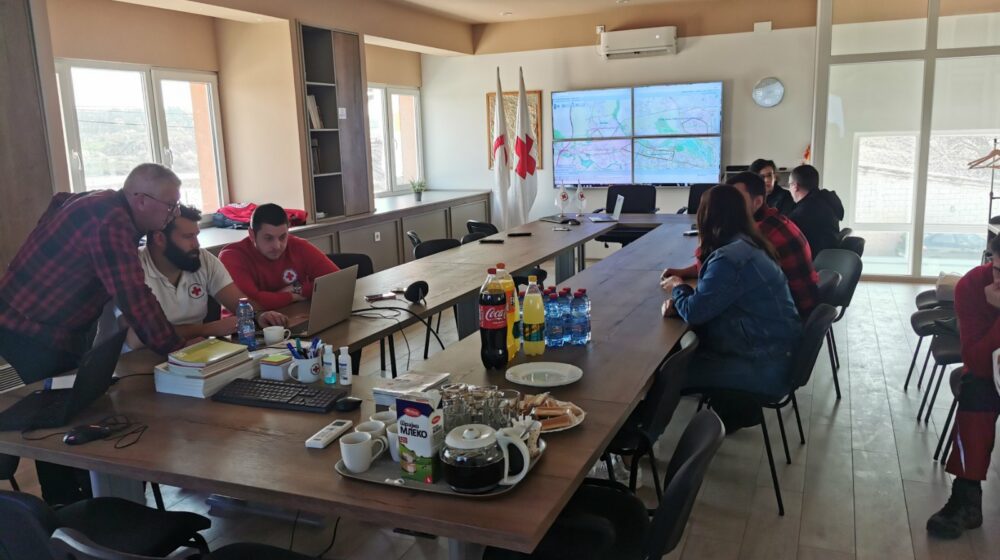 April 19, 2023
A simulation exercise within the project: X-Stock
Within the framework of the regional project "X-Stock – Strengthening of cross-border preparedness through joint management of stock reserves for emergency situations in South-Eastern Europe" with participation of the Austrian Red Cross as project leader, and the national societies of North Macedonia, Serbia, Croatia, Bulgaria, and the International Federation of the Red Cross and the Red Crescent, as well as a representatives of the Directorate for Protection and Rescue of the Republic of North Macedonia and the Directorate for Emergency Management at the Ministry of Internal Affairs of the Republic of Serbia.
On 23.03.2023, in the premises of the Disaster Preparedness and Response Center of the Red Cross of the Republic of North Macedonia in Momin Potok-Skopje, a "National Simulation Exercise" was organized with an earthquake scenario, affected parts in the south-eastern Republic of North Macedonia, in which a software application was tested at the national level for the management of stock reserves in case of a disaster.
On April 18, 2023, a "Regional Simulation Exercise" was held, for testing the software application at the regional level for managing stock reserves in case of a disaster. The scenario for the online simulation exercise, was a flood that simultaneously affects the countries involved in the project. Representatives of the Civil Protection took part in the Regional Simulation Exercise in all the above mentioned countries.
< go back