March 22, 2021
Integrated care and support service business development in the Red Cross of Republic of North Macedonia – financed by the Austrian Development Agency (ADA) Austrian Red Cross and Swiss Red Cross
As a result of the trend of continuous aging, there is a growing need for the development of various forms of care and support for the care of elderly in our country.
The Red Cross of the Republic of North Macedonia is already nationally recognized in the care of the elderly and through its verified programs for assistance and home care of the elderly and people with disabilities produces resources (certified) and offers home care services and assistance to the elderly and persons with disabilities. So far, on the territory of RNM, the national society has verified 12 Red Cross branches.
The Project "Development of business services for integrated care and support in the Red Cross of the Republic of North Macedonia", funded by the Austrian Development Agency, Austrian Red Cross and Swiss Red Cross, will last for three years and it has started with implementation in September, 2020.
This project collaboration contains three components that will enable assistance to vulnerable elderly people, ensuring sustainability by generating income and financing health and social services over a longer period of time. We expect through this project initiative CKRSM for this service to provide complete self-sustainability.
Foreseen activities
Preparation of a feasibility study and business plan for setting up Social-Medical Centers in Skopje and Dojran.
Establishment of an Emergency Button service, with initial coverage of 60 clients on the territory of the city of Skopje, where the model will be tested.
Opening of a Regional Center in Strumica to provide certified training and services for home caregivers for elderly and people with disabilities, including the cities of Radovish, Gevgelija, Dojran and Valandovo.
The Red Cross of RNM within this project envisages to establish cooperation and provide public and private partnerships (domestic and international) in order to ensure sustainable development.
Status

Ongoing

Duration of the project

September, 2020 – August, 2023

Donor

Austrian Development Agency, Austrian Red Cross, Swiss Red Cross

Other partners

Austrian Red Cross, Swiss Red Cross

Funding

800,000.00 €

Raised through:

200,000.00 € National contribution by the Red Cross of RNM

200,000.00 € National contribution by the Austrian Red Cross

600,000.00 € Support from the Austrian Development Agency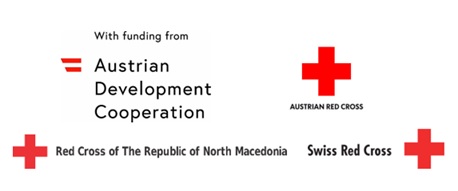 < go back