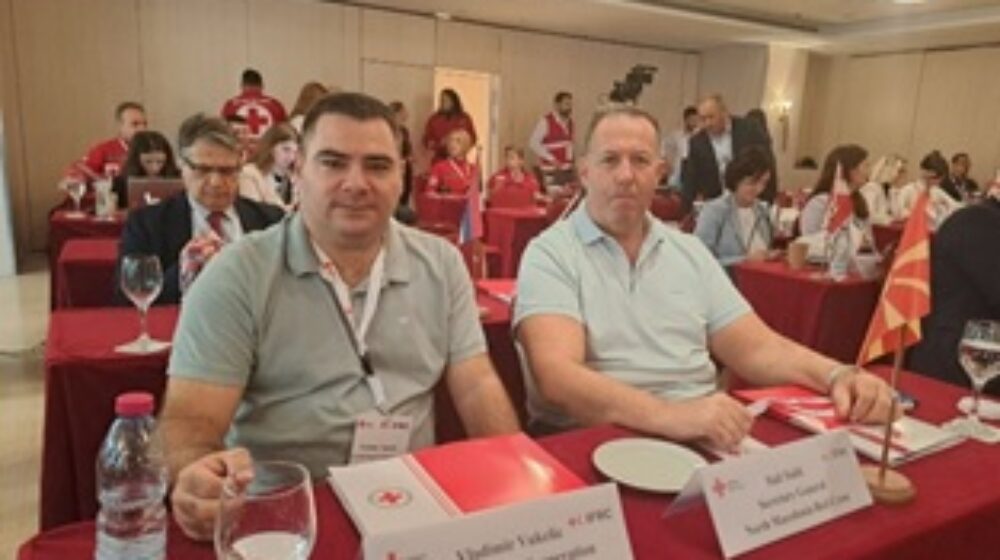 October 30, 2023
Leadership meeting of Presidents and General Secretaries of National Societies
On October 27, 2023, a leadership meeting of Presidents and Secretaries General of National Societies from Europe and Central Asia was held in Athens, Greece, which was attended by 23 national societies from the region, including a delegation of the Red Cross of RNM consisting of Prof. Dr. Romel Velev – President, PhD Sait Saiti – Secretary General and Vladimir Vukelic – Desk officer for cooperation and development.
The meeting was chaired by the Vice-President of the International Federation of Red Cross and Red Crescent Societies for Europe Mrs. Natia Loladze, while the host of the event – the Hellenic Red Cross headed by the President Mr. Antonios Avgerinos arranged all the necessary working conditions, a pleasant atmosphere and shared contents and positive practices from the work of the national society. In the formal address at the opening of the meeting, the participants were welcomed the Deputy Prime Minister of Greece, Mr. Panagiotis Pikrammenos and the Minister of Labor and Social Affairs Mr. Kostis Hatzidakis.
During the meeting, several topics were discussed related to the implementation of the pledges from the last European conference held in Tbilisi in 2022, the preparations for the extraordinary election session of the IFRC General Assembly scheduled for December 11, 2023, the preparations for the 34th International Conference scheduled for October 2024, the revision process of the IFRC statutes, as well as the importance of networking of National Societies by presenting positive practices from the region. During the meeting, Mrs. Natia Loladze also had her address, but this time in capacity of a candidate for the President of the IFRC for the upcoming extraordinary elections.
< go back