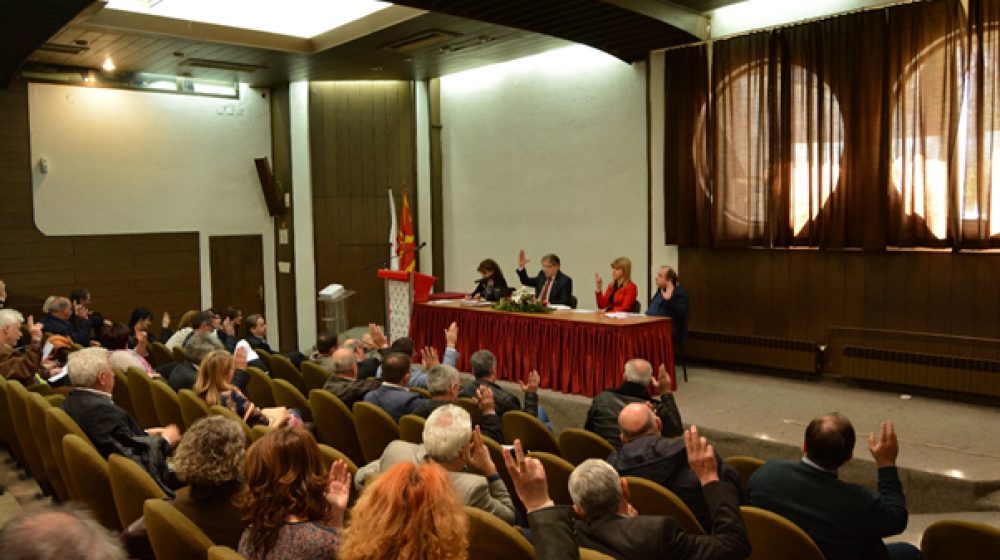 March 17, 2017
Session of the Macedonian Red Cross assembly
On 17.03.2017, at the House of humanitarian organizations "Dare Dzambaz" in Skopje, the Assembly of the Macedonian Red Cross held its twelfth regular session, on which was discussed and adopted the Annual Report of the Macedonian Red Cross for 2016.
Past year was filled with celebrating the significant anniversaries, events, dates and activities. The session was opened with musical performances and a performance by students of the high school "Ilija Nikolovski Luj" – Skopje and were shown videos with significant activities that marked 2016. At the event were awarded in forms of plaques, the 16 Red Cross Branches that met the plan in blood donation: the Red Cross Branch Center, Sveti Nikole, Veles, Vinica, Gazi Baba, Shtip, Kriva Palanka, Valandovo, Kavadarci, Delchevo, Struga, Negotino, Kratovo, Probishtip, Krusehvo and Bitola.
By the Secretary General  Mr. Sait Saiti there was presented "The poll for the Macedonian Red Cross".
In its working part the Assembly discussed the report on the work of the Macedonian Red Cross with the financial report for 2016. The assembly unanimously adopted the report on the work of the Macedonian Red Crossand the Financial report for 2016.
At the end, the President of the Macedonian Red Cross Dr. Milcho Trajkov addressed the members of the Assembly and thanked them for their contribution to the work and congratulated the March 17th "Foundation Day of the Macedonian Red Cross" and the Day of blood donation in the Republic of Macedonia
< go back