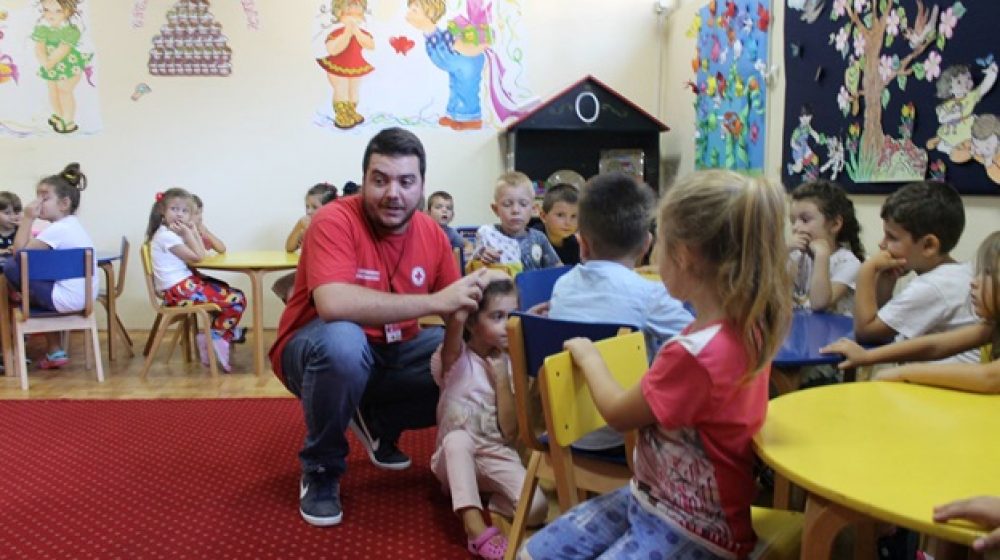 November 15, 2018
Simulation exercises on the territory of the Municipality Centar, Municipality Gjorche Petrov, Municipality Kisela Vod, Municipality Cair and the Municipality of Gazi Baba
Within the framework of the Program for Disaster Preparedness and Response, with the financial support of UNICEF, in November 2017, the Macedonian Red Cross started the implementation of a project aimed at preparing the educational staff for disaster preparedness in order to reduce of the risks that kindergartens and primary schools can face in Gevgelija, Kumanovo and Skopje.
Within the final phase of the project, 11 simulation exercises for evacuation of personnel and children in kindergartens and primary schools are under preparation, through which we will check the gained knowledge during the conducted trainings for protection and self-protection, and at the same time practically we will check the panic signalization and its use and functioning.
On the territory of the city of Skopje, in the period from November 14 to November 16, 2018,  5 exercises will be conducted: 1. Kindergarten RJ Korchagin – Pinokio(Municipality of Centar), Kindergarten Veseli Cvetovi – Sinolička (Municipality Kisela Voda), Kindergarten Rosica – Detelinka (municipality Gjorche Petrov), Kindergarten 25 Maj  – Sonce (Municipality of Gazi Baba), Kindergarten Snezana – Dzhudzinja (municipality of Chair)
During the simulation exercises, the staff of the kindergartens in coordination with the Macedonian Red Cross trainers teams and the first aid teams of the Local Red Cross branches (Centar, Karpos, Chair, Gazi Baba and Kisela Voda) will implement the procedure for protection and self-protection in the event of a disaster, evacuation and providing first aid.
< go back