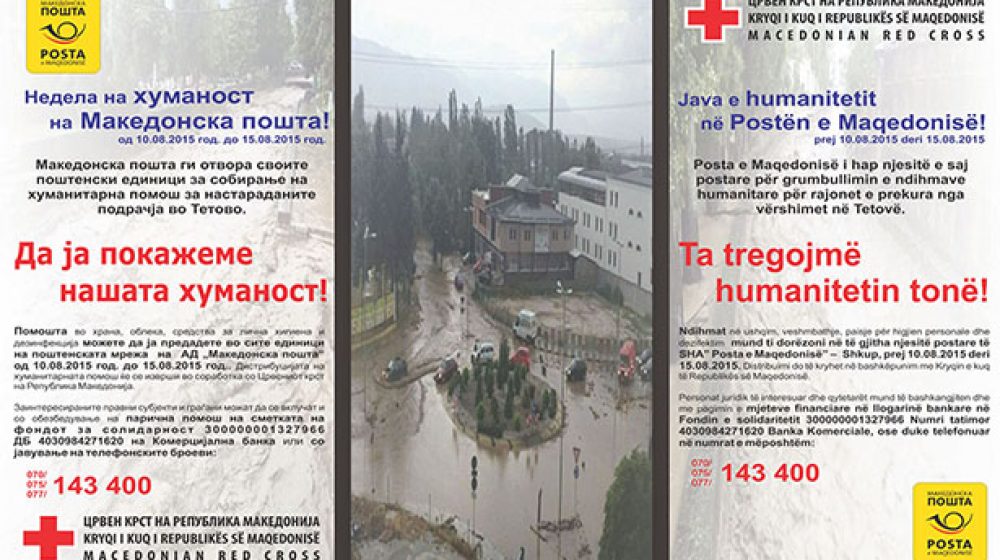 August 11, 2015
Assistance for the affected population from the flash floods in Tetovo
The humanitarian activities of Macedonian Red Cross in the Republic of Macedonia targeted for provision of assistance to the affected population from the flash floods in Tetovo will be also supported by AD Macedonian Post Office through the humanitarian action "Week of Humanity of the AD Macedonian Post Office – let's show our humanity!". The campaign will be organized in the period of August 10 – August 15 with participation of all branch offices of the Macedonian Post Office in the country. All interested legal entities and citizens may hand over their assistance comprised of food, clothes, hygiene material and disinfectants in the branch offices of AD Macedonian Post Office. The distribution of the humanitarian assistance will be made by Macedonian Red Cross in cooperation with AD Macedonian Post Office.
All interested legal entities and citizens may donate their financial contributions at:
– Macedonian Red Cross Solidarity Fund 300000001327966 tax no.4030984271620 – Komercijalna Banka
– People can also donate 100 denars by dialing the following telephone numbers: 075/070/077 143 400
Macedonian Red Cross also will coordinate all international humanitarian assistance received from abroad.
In the past period Macedonian Red Cross provided assistance for the affected population from the different donors, legal entities and individuals, such as: Kozuvcanka, Skopje Brewery, Alkaloid, Mak Oil, Stopanska Banka, Replek.
Macedonian Red Cross invites all interested legal entities and individuals to express their solidarity with their contributions for active support of this humanitarian action.
< go back