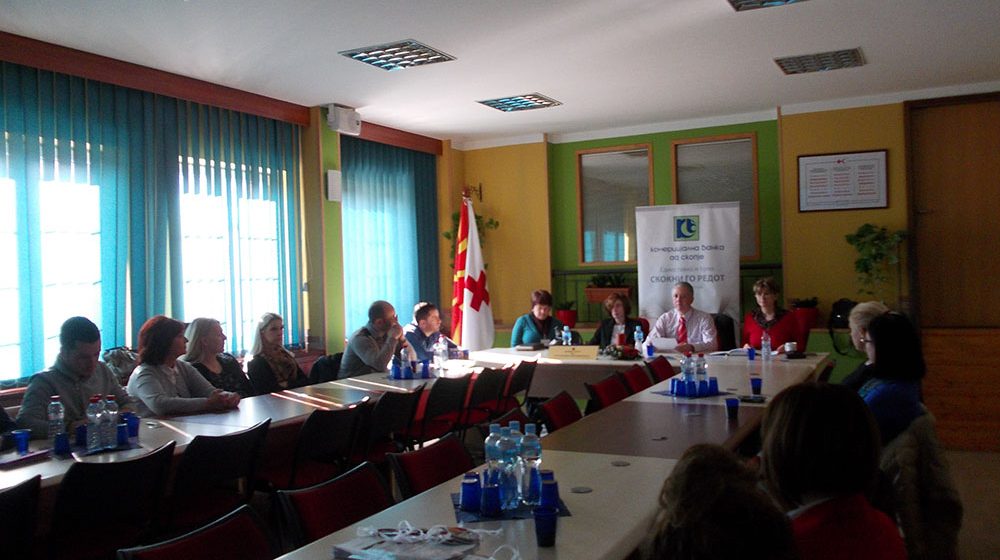 December 18, 2015
Improving socialization among children and youth with disabilities
The Macedonian Red Cross, within its Project "Improving socialization among children and youth with disabilities", organized on 17 December 2015 a workshop to evaluate project activities implemented through Macedonian Red Cross municipal branches of Prilep, Veles, Kavadarci, Delchevo, Kichevo, Debar, Gostivar and the City Red Cross of Skopje.
The objective of the workshop was to identify achieved results, the effects of the activities performed, as well as provide guidelines on future action at local level. The Chairman of the Committee for Social Humanitarian Activity, Mr. Dimitar Karakulev extended his satisfaction with the recent activities performed, as well as great appreciation to Komercijalna Banka AD Skopje for their support for the fifth time in a row, making it possible for this Project to be implemented.
Participants at the workshop were representatives from the Red Cross representatives and from the day care centers for children with disabilities and from the centres for social work, where the project activities are developed.
The workshop was attended by Ms. Jasmina Bucevska, Ph.D., who is director of the Komercijalna Banka's Marketing Head Office, who had the opportunity to attend part of the Project activities implemented during the year, under the Bank's support.
Proposals were raised during the workshop on how to advance the Project activities, for which implementation support is expected from Komercijalna Banka AD Skopje also for the next year. By supporting this Project, Komercijalna Banka, as a socially responsible company reaffirms the continuity in the efforts made in the development and welfare matters for the people in the community.
< go back