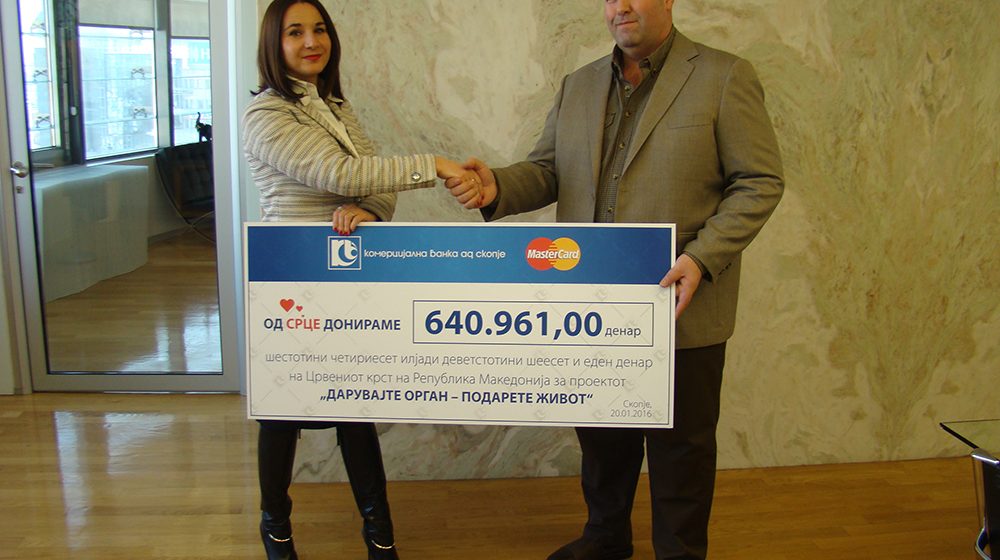 January 28, 2016
Partnership and support from Komercijalna banka AD Skopje
Komercijalna banka AD Skopje and MasterCard, in the last year in the period 21.11-31.12.2015 has conducted a campaign and a lottery "Buy, donate from heart and win a prize", organized for the marking of 20 years of successful cooperation between Komercijalna banka AD Skopje and MasterCard.
With the campaign that was with a humanitarian nature, there were provided 640.961 MKD, that Komercijalna banka AD Skopje and Macedonian Red Cross in 2016 will implement joint activities in the frames of the project "Donate an organ – save a life".
For this occasion on 27th of January 2016 there was an official meeting where Ms. Maja Stevkovska Shterieva – head financial director of Komercijalna banka AD Skopje has awarded a check to the Macedonian Red Cross Secretary General Mr. Sait Saiti.
The Secretary General at the meeting has expressed great gratitude for the provided donation and stated that this donation from Komercijalna banka AD Skopje is one more confirmation that it is a socially responsible company that contributes to the society in frames of improvement of the quality of life of the population in the communities.
This year Komercijalna banka AD Skopje for sixth time has provided support for the joint implementation of the project "Improvement of the socialization of the children and youth with special needs ", that is implemented through the City Red Cross of Skopje and the Red Cross Branches Kavadarci, Gostivar, Kichevo, Veles, Delchevo, Debar and Prilep.
< go back