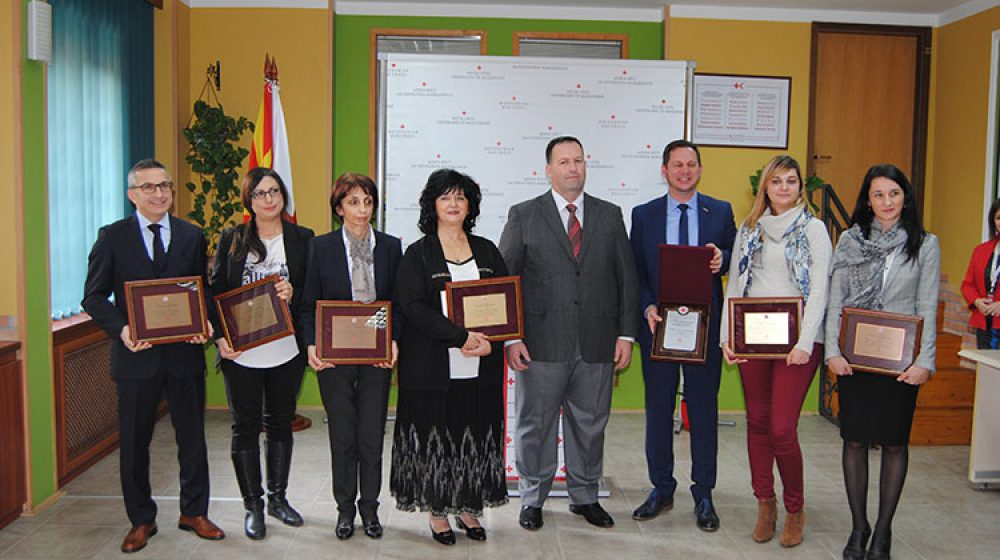 December 16, 2015
THE MACEDONIAN RED CROSS AWARDED "PLATINUM, GOLDEN AND BRONZE SUPPORTERS"
The Macedonian Red Cross, at a solemn event held on 16.12.2015 at 11:30 hrs in its premises awarded acknowledgements for: "Platinum supporter", "Golden supporter" and "Bronze supporter", as a sign of gratitude, to partners and collaborators, for the fruitful cooperation and support they provided.
Mr. Sait Saiti, Secretary General of the Macedonian Red Cross held an address speech, saying: this year, when we mark our 70th anniversary of the Macedonian Red Cross establishment and the 50th anniversary of the application of fundamental principles of the International Movement it is the fourth time now that the Red Cross is awarding acknowledgments to companies as a sign of gratitude for the provided partner cooperation and support to the beneficial social welfare programmes.
This year we award acknowledgements to seven companies, with which we mark common humanitarian values through the implementation of projects with social interest. Big gratitude to the companies and top managers to receive the Red Cross acknowledgement: "Platinum supporter" to EVN Macedonia AD Skopje, the acknowledgment "Golden supporter", to the companies Alkaloid AD Skopje and ProCredit Bank Skopje, as well as "Bronze supporter" to the companies: Stopanska Bank AD Skopje, Transmet, Studio Moderna and Ramstore, as a sign of gratitude, for the achievement of the Red Cross humanitarian objectives and tasks.
The support that the Macedonian Red Cross has been receiving from these successful companies is a positive example and we hope that the other big companies in the country shall follow their socially responsible operation and shall be further recognized as strategic partners in the big family of "supporters" of the humanitarian mission of the Macedonian Red Cross for efficient support and advocacy for the interests of the vulnerable population.
< go back