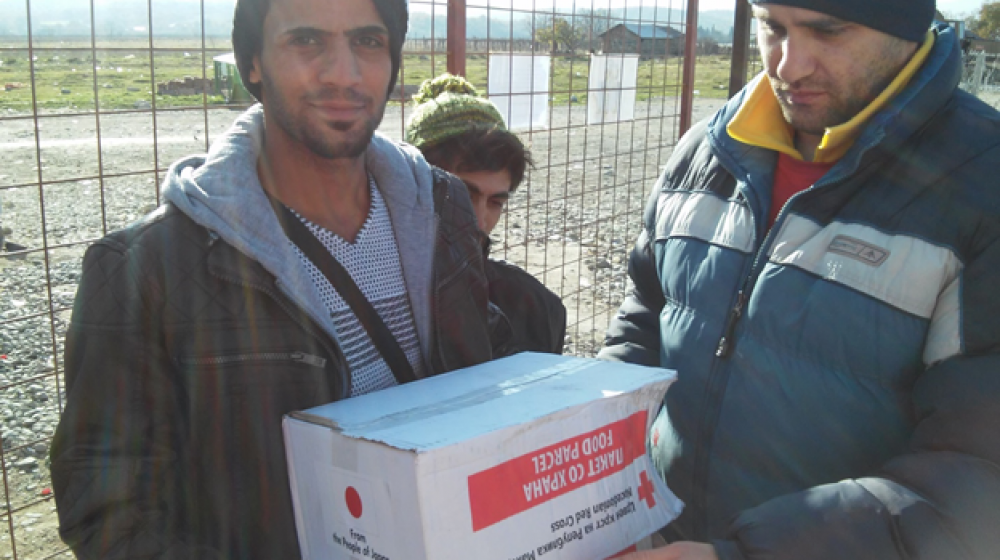 December 21, 2015
THE RED CROSS PROVIDES ASSISTANCE TO MIGRANTS
It's been all year-round that the Macedonian Red Cross has been intensively assisting migrants transiting Macedonia on their journey towards the Western European countries. The activities of the National Society are conducted by some 200 volunteers and staff member who have been providing assistance all day long to most vulnerable migrants in the reception centres adjacent to the border crossings in Gevgelija and Tabanovce. The Macedonian Red Cross activities have been supported by many domestic and international donors.
The assistance of the National Society allocated to migrants has its particular form of providing food, hygiene packages, first aid kits, restoring family links, and alike.
Let us inform you that during December 2015 and January 2016, 15,000 packages shall be distributed to migrants containing food items, as granted by the people of Japan, within the implementation of the Emergency Appeal to assist migrant population of the International Federation of Red Cross and Red Crescent Societies. In that light, the Macedonian Red Cross would like to express its utmost appreciation to the people and the government of Japan for the assistance shared.
The Macedonian Red Cross shall continue to closely observe the migrant conditions and shall regularly implement envisaged activities to support this target group, in collaboration with other partner organisations.
< go back